Softlink IC Blog
Subscribe to our regular updates
How to Source eBooks for Your Library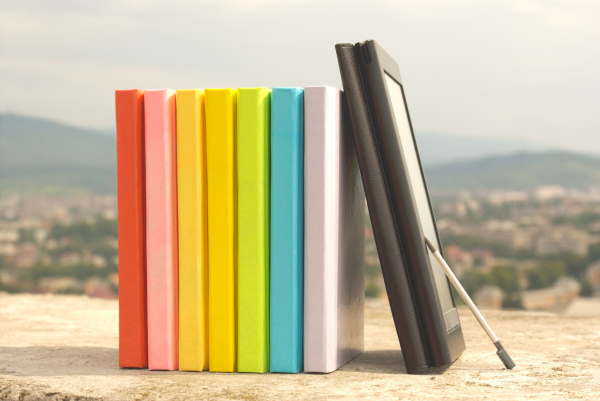 Are you wanting to increase your library's eBook offerings? You're not alone. Libraries are increasingly offering digital as well as hard copy resources. EBooks are just one of a wide variety of eresources that are an increasingly common offering in all types of libraries, from specials to public. But where can librarians, who want to provide more eBooks to their users, buy them?
Softlink IC thought it might be valuable to provide a bit of information on the rise of eBooks and resources, and where librarians can go to source eBooks, both commercial and free, for their users.
A Bit of History
Did you know the first eBook was published in 1971! Many of you would know of course but do you remember what the first eBook was? Keep reading to find out the answer.
While eBooks have been around for decades, they have only really been available for use in libraries since 2006. A start in eBook production in the late 1990's came to an abrupt halt, the result of the dot.com crash. For some time after the crash, there was a reluctance by publishers to offer eBooks as a product.
Digitizing other resources like documents, reports, and images for example, continued. However, it was not until the last 15 years that commercial publishers discovered the market for digital books was significant driven by personal ereader devices.
Where Can Librarians Buy eBooks?
Librarians recognise eBooks have a significant place in their collections. But where can they source eBooks that meet their specific subject requirements?
It's not as if librarians can just walk into an eBook shop, buy them and offer them to their users. The eBook publishers' terms don't allow it. Librarians need to opt for a subscription model that incorporates publisher agreements and digital rights management.
There are a significant number of eBook vendors librarians available to librarians. The types of eBooks and resources library staff want to offer their users will determine which vendor, or vendors, they source eBooks from. Some of the commercial vendors include:
Every eBook vendor provides an overview of the titles and subjects of eBooks they offer. They can be contacted to discuss the terms related to eBook subscriptions including the associated licensing costs and the number of times their eBooks can be loaned.
Two Major Issues
There are two major issues that librarians continue to grapple with regarding the provision of eBooks their users expect:
Publisher mandated restrictions to usage of eBooks.
The cost of licenses.
Librarians have also long continued the fight to ensure their users have the same open, easy, and free access to e-books that historically they have had with physical books. With those, once bought, there has never been a restriction to the number of times it can be borrowed. Not so with eBooks. That fight continues!
Free Open Access Resources
Open access eBooks and other eresources can be a librarian's best friend! Fortunately, there are several open access repositories with significant collections of free eresources. Here are a few examples:
Project Gutenberg – this site offers over 60,000 free eBooks, the vast majority of which are primary source texts, including speeches that can be downloaded or read online.
National Academies Press Free eBooks – created by the National Academy of Sciences, this site contains thousands of eBooks and PDF reports published by the Academy of Sciences, Engineering, & Medicine.
Internet Archive – this site includes free and borrowable books, texts, websites, music etc.
There are of course other digital libraries containing free, open-source eBooks and reports. Why not check them out to see what eBooks and resources they offer that would be of value to your library's users. They could be a cost-effective way for librarians to deliver more digital resources to the library's users.
Managing eBooks and Resources
Many library users still want access to traditional hardcopy books, but an increasing demand for easy access to eresources including eBooks is evident.
For librarians, the expectation is that their integrated library management system (ILMS) makes it easy for them to manage resources of all material types. Managing eBooks means they must be easy:
To catalog.
For their users to search for and identify.
For their users to download or read online via the library's website.
EBook vendors can integrate into a library's catalog. In Liberty, for example, eBooks from Wheelers or Overdrive can be accessed without exiting from the library's online catalog via our eZRead function. The bonus of using eZRead is that usage statistics will be included in applicable Liberty reports rather than having to receive them from the vendor!
In Summary
Including eBooks (and digital resources) as well as those beloved hard copy items, is the goal of librarians everywhere, no matter what sector they serve. Managing the purchasing and lending of eBooks is not as simple as with hard copy items, but they are increasingly valued by library users.
Nonetheless, the cataloging and displaying of the library's eBook offerings, in a good ILMS like Liberty, is quick and easy. If your current library management system does not make it easy to manage an increasingly diverse range of material types including eBooks, why not contact us or book a free demo.
And the answer to what was the first eBook published? That was the U.S. Declaration of Independence!
SESSION 1:  Australia / New Zealand