The Liberty Library Management System
Liberty is a high performance library management system solution that will grow and change with the needs of your organisation

The Liberty library management system enables vital information to be delivered anywhere, anytime through modern devices. Liberty provides powerful functions with ease of use.
Powerful Management Interface
The Liberty library management system has a robust management interface, allowing you to easily:
Manage and track your physical, virtual or electronic resources
View information alerts and real-time reminders
Create up to seven customised authority files or taxonomies
Secure access to resources according to your business policies
Send Emails and text messages to users
Import MARC21 records from libraries and databases around the world with Z-Cataloguing support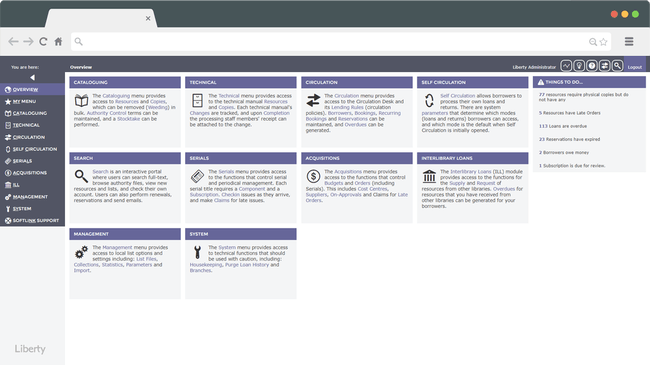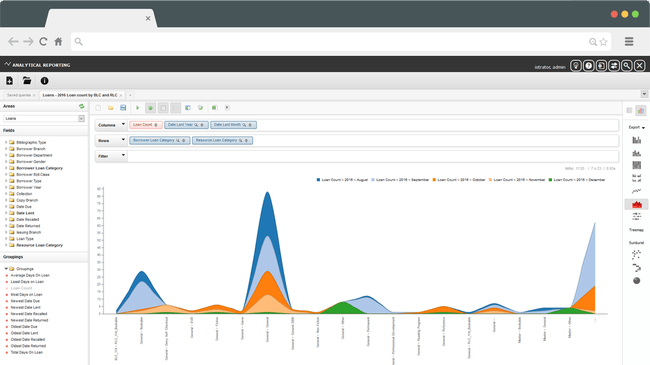 Powerful Analytics Interface
Liberty can help you monitor and report on all aspects of your library:
View graphical reports using real-time library data
Drag and drop reporting
Save and share queries with other staff
Export reports to Excel and PDF
Use advanced filtering to report only the information you need
Reporting & Analytics
Create custom reports to focus on library management areas important to you. Schedule reports and have them emailed to you regularly
Protocols
Liberty library management software supports the OAI-PMH protocol and many other standards, including Z39.50, SIP2, and APIs helping save time and reducing workload
Cloud Hosting
Reliable and secure certified T4 hosting facilities are available for convenient access to your library management system via the cloud in Sydney, Singapore and London. Self-hosted setups are also supported
Integration Options
Use our APIs to integrate the Liberty library management system with Microsoft Sharepoint.  Expand your library's catalogue by integrating with providers such as OverDrive and ClickView
Free Training
Access several free training sessions for your Liberty library management system throughout the year, including in-person group training and online sessions. Plus free user groups and webinars for all supported customers
First Class Support
Access to a support team of qualified professionals who understand library management processes and related technologies. Support is available via online chat, Email or phone
The Liberty library management system has powerful search features for finding your valuable knowledge, including faceted search and predictive text for quick retrieval of relevant information
Provide your users with a home page targeting their interests via featured lists, carousels, sliders, videos and more all from this unique library management system.
Logged in borrowers can access library information such as current previous loans, bookings, messages, interests, current awareness and previous searches
Full Text Search
Search all the information within your catalogue, including the contents of your Word or PDF documents, with ease using the Liberty library management system.
Liberty Link App
The Liberty Link app provides Android and iOS phone users 24/7 access to the information they need
Customisable Interface
Customise the layout and contents of any page in the library management system to suit your library's needs.
RFID and Self Checkout
Streamline your loans and returns processes with Liberty library management software's RFID and self-checkout support.
Configurable User Roles
Design your own access levels to match business policy and user needs. Liberty library management system has highly configurable role based security to fine-tune access for your users.
Single Sign-on
Support for Single Sign-on (SSO) means secure and convenient access to the library management system without being asked to login.
LIBRARY MANAGEMENT SYSTEM CASE STUDIES