Softlink IC Blog
Subscribe to our regular updates
Why a Mobile App is a Must for Library Users and Staff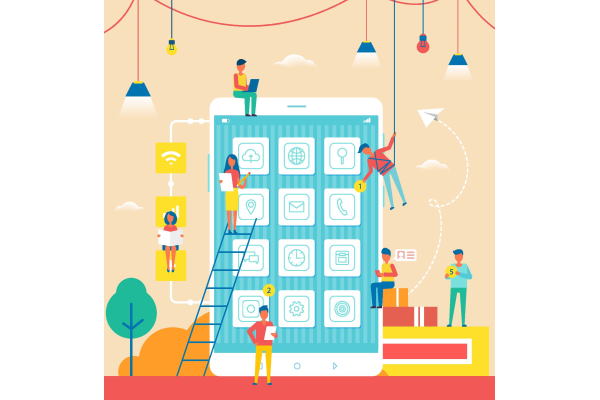 Published September 10, 2021
Mobile devices, especially phones, are the most valuable tool we can think of. They keep us in contact with others and enable us to complete any number of tasks, no matter where we are.
A mobile app as part of an integrated library management system is now a must-have feature. Softlink IC recognized and realized that need with the introduction of the Liberty Link mobile app in 2013 as an integral part of our integrated library management system Liberty. Since then, it has become indispensable for many of our library customers.
Why a Mobile App for Libraries?
In an increasingly digital world, a mobile app that connects the library, its staff and the users is no longer "a nice to have" option. It is an essential business tool.
For librarians, information managers, and their staff, it is all about ease of access for their users. Many users visit the library in person less often. So, a way to bring the library to the users had to be found; a way to provide them with easy access the library's services, and resources wherever they are.
If the convenience of an easy to download mobile app for library users was a winner, library staff started to ask why not for them as well. Surely their mobile device could be used to help them in their day-to-day tasks. They believed, and rightly so, that it should enable them to complete many of their "in house" tasks without being tied to a desk efficiently, effectively and simply.
Liberty Link continues to evolve to cater for both library staff and their users!
Self Help
Library staff have always sought out new technologies. In the mid-90s the new-fangled self-checkout machines were introduced. Once the early issues were ironed out and they became relatively simple to use, library borrowers enthusiastically embraced them. Seemed many library users like the opportunity to help themselves when it is simple to do.
It seemed self-help was the new way. And so, library staff and vendors like Softlink IC started to identify what sort of self-help functions would appeal to library users and how could they do that, whether they were in the library or accessing it via the library's Home page.
What better way than via the mobile phone? With the huge take up of that technology, it was the ideal vehicle to bring the library to wherever the users were, to:
Search – including keyword, subject, author.
View item details, including location, availability, and bibliographic details.
View the cover image of resources in the Results list.
Download digital resources.
View and renew loans.
Self-check loans.
Quickly identify overdue loans.
Place reservations.
Place requests.
View alert messages.
View library information on opening hours, events, industry, and organizational news.
View the new items and reading lists.
From Liberty Link's first appearance in 2013, the number of self-help options continues to increase to meet the needs and preferences of library users.
Anywhere Anytime Access
Library staff want to deliver their services wherever their users are and whenever they want them. More often, users are more likely to access the library and its services externally as opposed to going to the library. For libraries with an ILMS which includes a mobile app, their users can download the library's app. This means no matter:
Where they are
The time of day or night
How often they need to access the library
the library is literally in their hand!
But What About Assisting Library Staff
Many ILMS products now include a mobile app often as an add-on rather an integral part of their system. Some do not include staff user functions.
There are several tasks library staff can complete with their mobile device once they've downloaded the Liberty Link app including:
Scanning ISBNs or barcodes to automatically retrieve resources from the catalog.
Stocktaking.
Cataloging.
Adding valuable metadata to resource records automatically.
No doubt further development will see additional tasks that can be completed, from customizing and running reports, to setting up budgets. Suggestions from our Liberty customers are always welcome!
Library staff using Liberty love that no matter where they are in the library, they can access any resource record or complete many of their tasks with their mobile phone. The only thing they need to remember is to have their mobile with them. That is not a problem for most people as, apparently, they almost never move without it!
Softlink IC developers continue to find ways to include new functions to Liberty Link, based on suggestions we get from library staff!
Got any questions? Want to learn more about Liberty and our feature-rich mobile app? No problem. Just contact one of our brilliant Support Team members. You can also book a short demo.