Softlink IC Blog
Subscribe to our regular updates
How to Increase Your Library's Usage in 5 Easy Steps
Library staff are committed to helping, informing, and inspiring everyone. They are focussed on the converted and currently unconverted. Hiding their light under a bushel is not part of any library staff's DNA. A great library management system like Liberty, an intranet, and social media give them the tools to reach their audience and increase their library's usage.
Here are 5 ways library staff can increase their library's usage in their organizations and communities.
1. Know the Non-users in Your Organization
Staff know who uses their library and are aware there are those who don't. To ensure they are engaging with all users, staff:
Lobby HR departments to get contact details of all new employees.
Advocate for library tours as part of the induction process for new employees.
They may also integrate with HR and administration systems to automate borrower provisioning, so new users are automatically added to the library's borrower lists. New employees can then be included in any communication and promotional material generated by the library.
Library management systems enable staff to run reports that identify non-users and proactively engage with them. Liberty, for example, has a borrower engagement report that highlights how users are interacting (or not) with the library.
2. Adopt and Promote Innovative Technologies
Library staff are frequently the first to identify, implement, and promote new technologies. This includes third party tools and new technology included in the library's software.
Liberty, for example, is not just a web-based catalog with an easy to customize library Home page. It also includes the Liberty Link mobile app.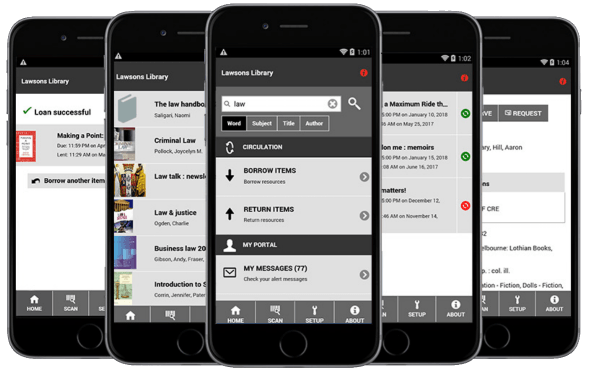 Everyone in the organization can easily upload the app to their mobile device. As a result, not only can users, existing and potential, access the library from the office, they can access the library resources and services anywhere, anytime on their mobile devices.
3. Give Your Library a Presence on Social Media or Your Intranet
Many libraries have a presence on their organization's intranet, on sharepoint or if permitted, social media platforms including Facebook, Twitter, and Instagram. It's easy to set up a library account, send the organization's employees the links and encourage them to follow!
It is another way library staff promote their services to their organization's employee and the world at large. It amplifies what resources, services, and events your library contributes to the organization, and if applicable, the community. Staff post regularly about:
What's happening in the library.
Upcoming events.
New resources.
Recent research.
Having a presence within the organization, and if appropriate, on social media platforms promotes and engages everyone.
4. Newsletters
Regular library newsletters are another way to spread the word about what's happening. Need to let everyone know about events, services and useful resources? Consider creating and emailing newsletters.
Newsletters also give libraries and the organization's staff an opportunity to collaborate. Canvassing users and non-users in the organization about projects or upcoming events in their departments promotes ownership and inclusion.
Liberty allows library staff to create newsletters within the system and bulk email them to everyone included in the library's members database. Never let an opportunity pass to engage with people in the organization!
5. Email Alerts Service
Identifying the interests of the organization's employees is important to library staff. In particular:
Who is interested in new resources on what specific subjects?
Are they interested in updated reading lists?
What research information do they need to be notified of?
What legislative changes apply to work conducted by their firm or organization?
An email alert service is the way to keep users and non-users informed. Setting the frequency and scheduling of alerts keep employees "in the loop". An alerts feature enables staff to:
Set a predetermined number of times of day or week that alerts are automatically sent.
Determine the group of users who will receive the alerts.
Adjust the times and types of alerts as required.
Regular email alerts are a great way to increase the presence and value of the library, and increase your library's usage. They also encourage non-users to become users!
The name of the game for library staff is trumpeting their presence and value to all employees throughout their organization. A great, web-based, feature packed library management system like Liberty partners with library staff to do just that. Don't just take our word for it, contact us and one of Softlink IC's Sales staff will show you how.