Softlink IC Blog
Subscribe to our quarterly update
Employee Spotlight – Jeovanny Rivera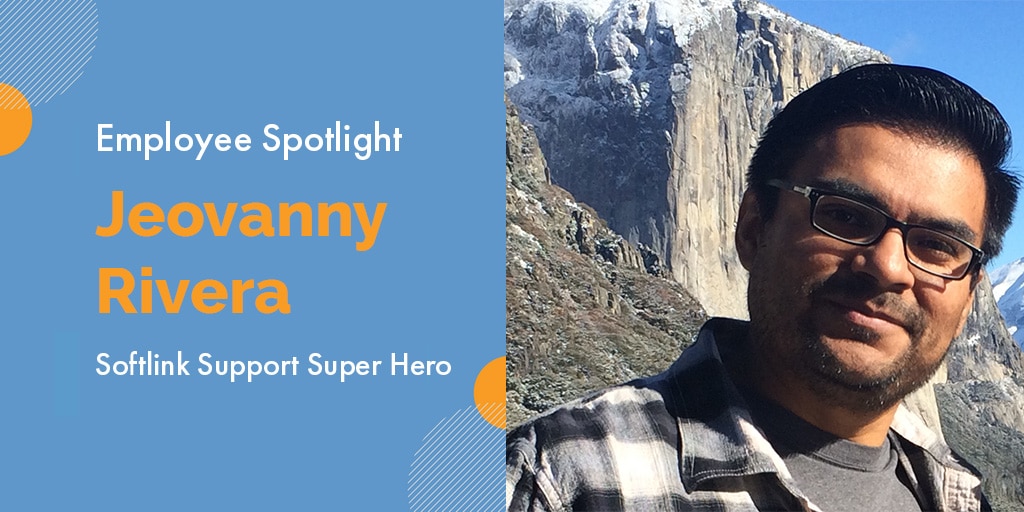 Jeovanny Rivera, our Technical Services Manager for EMEA and North America, is part of our talented Softlink Americas team. Most of our customers have "met" Jeo on phone calls or video conferences, but in our first Employee Spotlight, we get to know more about this support super hero!
How would you describe your job to a child?
Obviously I would hype it up a bit and tell them that I am the guy you see in the TV shows, sitting behind his super computer, saving the world in a matter of a few clicks. Then I would tell them that I do this for a group of special people that love to manage and share information.
What do you like most about working at Softlink?
Two things:
One – the People!
It is weird to say out loud because I am shy person and usually prefer to hide behind a computer screen (I know that is the typical stereo type in IT). However, over the years, I've met wonderful people from all parts of the world with whom I work and interact on a regular basis.
Two – the cutting-edge technology used by Softlink!
It feels like Christmas morning, unwrapping gifts each time we try new products or services, not to mention the different technologies that we incorporate into our products.
Thinking of all the jobs out there, I cannot imagine a single one that would allow me interact with such a diverse group of people and allow me to PLAY with all these toys.
What is your favorite type of music?
I consider myself a young dude and, as such, I have eclectic taste in music. My kids will tell you that I am old because one of my favorite genres of music is classic rock, meanwhile my wife will tell you that I am romantic because I like smooth jazz. But, I also enjoy Michael Jackson's music as much as Beethoven. Okay maybe I'm not so young!
Where in the world would you like to visit and why?
I don't really know much about my ancestry but I do know that, on my mother's side of the family, my great-great grandparents were born in Portugal so I would love to travel there one day.
Which 4 people, alive or dead, would you love to have dinner with and why?
Lucille Ball – I grew up watching re-runs of her hit show "I love Lucy". Although it was produced in the days of black and white TV, and released decades before I was born it was and still is, in my opinion, one of the funniest shows.
Nikola Tesla – One of the most innovative and forward thinking scientists to this day who has influenced different industries.
Nelson Mandela – He was a fearless defender of justice, equality, and peace. He endured decades of incarceration yet, when released, continued to practice his beliefs without resentment or hostility.
My great-great grandmother – While she may not have done anything that made her famous, or help contribute to this world as much as the others, I just want to ask her where did the family fortune go as I did not get my fair share!
If you could be anyone else for a day, who would that be and why?
If I could be anyone else for a day I would definitely like to be a heart surgeon. Just being able to see and touch the human heart while still beating must be a religious experience.