Softlink IC Blog
Subscribe to our quarterly update
Mobile apps in the law library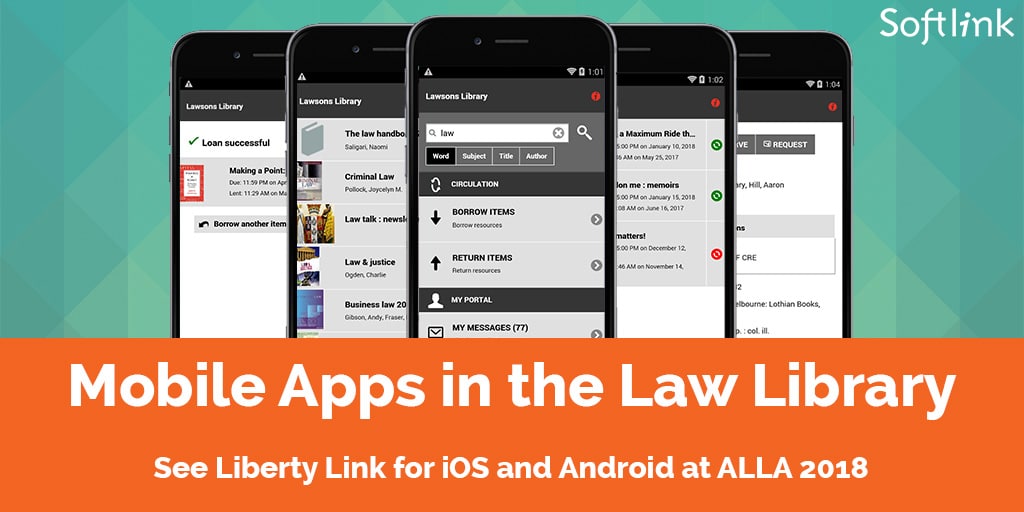 Mobile Apps in the law library – see the Liberty Link mobile app at ALLA 2018
Released as Library Link in 2013, Softlink's enhanced mobile app for libraries has been renamed Liberty Link, and we are excited to be bringing it you for ALLA 2018!
ALLA delegates will be able to download the app for free and use it to interact with a virtual law library. Instructions on how to take part in the virtual experience will be included in your delegate satchel and on the Softlink stand in the exhibition hall.
There has been an increasing requirement for law librarians, information managers and researchers to give users easily accessible information on mobile devices.
To help our Liberty library management system customers keep pace, the Liberty Link mobile app has seen some big enhancements to the self-help functionality.
The new mobile app sees an ever-increasing number of self-help functions including:
Searching – including keyword, subject, author
Viewing item details including location, availability and bibliographic details
Downloading and reading of PDFs
Viewing and renewing loans
Highlighting of overdue loans
Placing reservations
Placing requests
Viewing messages
Viewing library information
Viewing the new items and reading lists
Further features, based on our customers' suggestions, are planned for inclusion in the near future.
Visit Sarah, our Technical Services Manager, at the ALLA Softlink stand, who will be delighted to demonstrate how easy it is to download the Liberty Link app and use the self-help functionality to improve your library users access to information and assistance via their mobile devices.