Softlink IC Blog
Subscribe to our regular updates
You'll Love the New illumin Dashboard!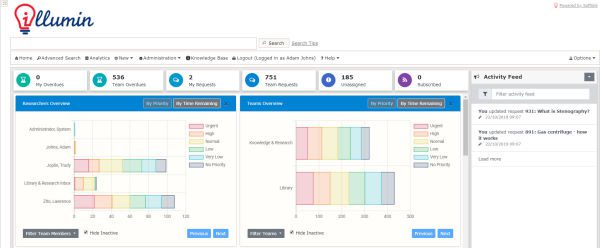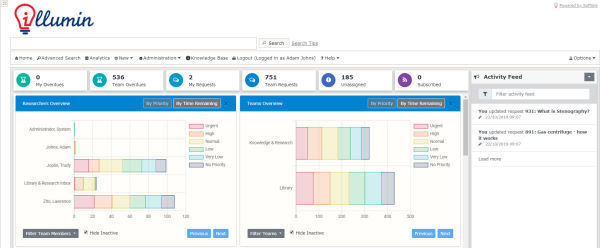 Softlink IC is excited by the recent release of illumin, our brilliant knowledge, and research management system. One of the standout enhancements is the new look and feel of the illumin dashboard that displays when users log in. Most of us dream of a makeover to this magnitude!
To celebrate, we thought we would give you a brief summary of some of the new dashboard features.
Not Just Any Dashboard
Dashboards are, at a glance, an information display that visually tracks, analyzes, and displays all performance-related metrics to logged-in users.
The latest version of illumin displays the metrics Research Managers and Researchers need on their dashboard. As has always been the case, illumin users can determine the information they want displaying in their dashboard. It is just a matter of turning the option on, or off, as preferred.
Here's just a sample of the benefits illumin's new dashboard will give you when you upgrade to Version 1.0.14:
An overall view of the entire team's performance and KPIs.
Research Manager's Dashboard View Leaders can monitor their teams' performances, quickly manage the requests, and measure their teams' productivity.
The displays for research managers provides the required metrics for their team.
The highlighting of requests that need immediate attention.
More filters to help researchers find the tickets they need to see straight away.
An Activity Feed. The feed displays updates to requests within the last 30 days.
The option to select an Activity Feed type.
For Research Managers, the option to display request traffic, recently opened requests, researchers, and top Knowledge Base articles, for example, is available.
More search tips.
Easier request handovers between teams in other locations.
Softlink would like to acknowledge our many illumin users. Their thoughts and suggestions inspired us to deliver the best version of illumin yet. So, if you haven't upgraded to illumin 1.0.14 yet, do not hesitate any longer!
The new version of illumin comes with comprehensive release notes. If you have any questions, you can always contact our excellent Customer Support staff by email or phone. Alternatively, why not try Softlink's live chat option once you log into the portal.
Research Manager's View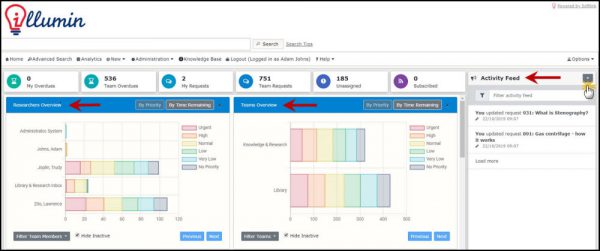 Researcher's View