Softlink IC Blog
Subscribe to our regular updates
6 Easy Steps for Switching to Liberty!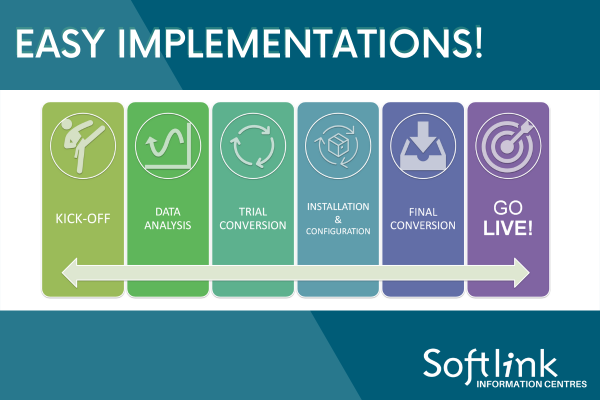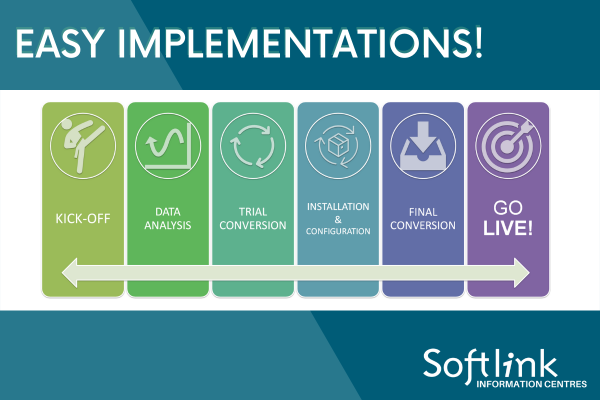 So you have decided Liberty is your ideal new library management system. What's stopping you from taking the plunge? Is it tempting to stick with your clunky old library system because it might be easier than changing it?
Softlink IC understands that switching to Liberty is like moving to a new house. You need to pack up all the items you've spent years collecting. You need to make sure they fit well into your new "place". Most of all, you want your new environment to fulfill your needs for years to come. We've made it easy to move to your new library management system.
Switching to Liberty is Easy
We have helped hundreds of clients migrate, from a wide variety of systems, to Liberty. We will guide you through the whole process, making your migration an easy and stress-free process!
The Steps
These are the easy steps we go through with you:
Step 1 – Kick-off Implementation Meeting
This is the beginning of the journey to a better library experience! This first step is all about explaining the process. It is about giving you the information to reassure you switching to Liberty will not be as stressful as you imagine. From start to 'go live' it takes from 4 to 6 weeks.
We discuss:
Timeframes – we understand just because you are switching to Liberty does not mean everything else required of you stops. We will work around your time constraints.
Requirements from data to color scheme – what data you want imported into Liberty, policies that need to be considered, and how that process works. If you want your corporate color scheme and logo used, no problem. It's all part of the implementation service.
Training needs – how many training days are required? Whether to complete it before you go live or split between pre and post go-live? Your preferred delivery method – face-to-face or via the web? It's your choice.
Step 2 – Data Analysis
Your IT staff, or authorised technical services staff member will send the data files from your old library system to us or, if you permit us to access your system, we can extract it for you.
Once we receive the files, our conversion specialists analyze your data before mapping the fields and information into a trial Liberty system.
In the unlikely event we don't have an existing conversion program for your current system we will write one that will successfully import your data into Liberty.
During this phase you can continue to work on your existing system. There's no need for:
Days or weeks of manual recording of transactions.
Manual entry of off-line transactions into the new system.
Step 3 – Trial Conversion
Once the fields are mapped and data imported into a database, we send it to you with a report identifying any issues of note. Our aim to is to make sure your imported data is mapped according to your requirements.
In an agreed to time frame you just need to:
Check the data in trial database.
Let us know what changes you believe are necessary.
Step 4 – Installation and Configuration
If any changes are required, they are completed and the database sent to you again to confirm the changes are as you wanted.
Once you are happy with trial conversion, we then install Liberty on your server or ours if you decide to "go hosted" in the cloud. We then configure it to ensure the system will operate according to your requirements from the look and feel, to lending rules, staff permissions and everything in between.
Step 5 – Final Conversion
Once Liberty is installed and configured, we will ask for the data from your live system and import it into your new system.
Because the trial conversion was run and then checked to ensure you were happy it, the final data import is much faster.
Step 6 – Go Live
The big event is now here. Very exciting, and perhaps a little bit daunting! Throughout the process we make sure we are always available to answer questions and offer help whenever you needed it. Going live and going forward, that is no exception.
Is That it?
Yes, it really is as simple as that! Overseen by our library and conversion specialists, the whole process is nowhere near as stressful as you thought.
We have made the process to switch to Liberty as simple, comprehensive, and as easy as it is to use. Our aim is to get you off to a great start with your new library system.
If you're thinking about changing to the Liberty v5 Library Management System and have any questions about our conversion process, it's as simple as clicking HERE. We'd be happy to answer any questions you may have.