Softlink IC Blog
Subscribe to our regular updates
Holiday Tips and Treats – Simplify Your Search Box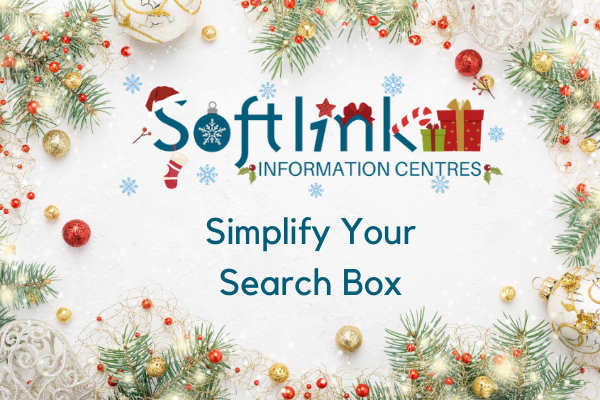 Published December 10, 2021
The holiday season comes but once a year and for our Liberty users, there's all those end-of-year tasks to complete. But while many of your users are on a short break, it can be a great time to tackle some of the changes you may have been thinking about for a while.
Over the next few weeks Softlink IC will give you a few suggestions and ideas to consider so how about simplifying your search box to kick off.
Simplify Your Search Box
There's something to be said for simplicity! Your users can easily access the library's Search box but how easy is it to find the Search box? It will take only a few minutes to make that Search box stand out to your library users. If you want:
Your Search box image displayed without the page banner, that is easily done by changing the setting on Parameter No. 4232.
A solid color for your background is instantly effective. Just use the Interface Setup wizard on the Homepage as it steps you through that quick process.
Want a logo added to the top left-hand corner of the Search field background? That can be arranged by adding it to Parameter No. 4239.
Alex the Alpaca was happy to have his logo used for this Search field background example!

With these few quick and easy changes, your Search box will stand out from the crowd.
Need Help?
Making changes to your Search box gives you instant gratification and your users a lovely surprise. But we know updating your Search box is not an everyday task.
Need help on how to remove an image or change the background color of your Search box? There are guides in the Help interface, or you can contact our friendly Support team here, via phone, or log into the Client portal and use our live chat option!
Job Done, Now for a Treat!
Now, as a treat for a job well done, here is a recipe for a festive drink. After all, we all deserve a treat as we come to the end of a busy year.
Whether you choose a cocktail or a mocktail, enjoy! Watch out for next week's tip and treat.