Softlink IC Blog
Subscribe to our regular updates
It's Super September. Free Library Webinars for Everyone!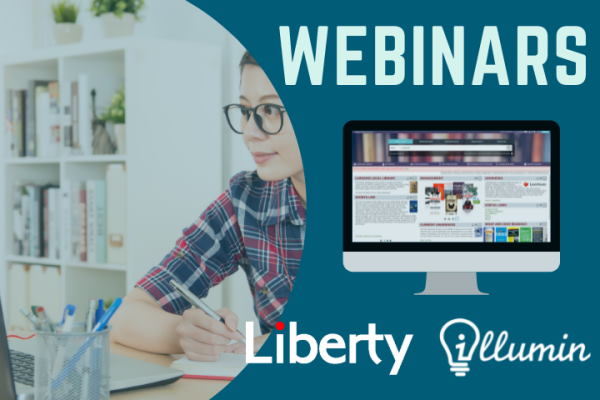 Published September 3, 2021
As we kept adding opportunities for catching up and getting more tips on Liberty to the Softlink IC Events page, September has become quite the super month.
First up, there's the Engage with Emails bootcamps scheduled for Australia and the Pacific, the UK, and North America. You can register for your preferred boot camp via the Events page now, if you have not already done so via the notification email you received.
Then there's our series of short but informative library webinars. Each is on a different topic, with the first two scheduled in September. The last, to give everyone a bit of a breather, is scheduled for late October.
Let's run through the library webinars, what they are on, and a link to register. You can register for all of them, or just one. It's up to you!
If you find you cannot attend, register anyway and we'll send you a link to the webinar video shortly after it has been run.
1. Go Digital Webinar
Want to find out how easily you can transform your library's digital services with regular newsletters to engage and inspire? Then this is the webinar for you.
Find out how to incorporate e-books into your catalogue and discover the other digital resources you can offer your borrowers, to make browsing a seamless browsing experience for them!
Take a sneak peek at how you can boost your online presence with an attention-grabbing library homepage. Join us to discover how an attention-grabbing homepage, and easy to include digital content, will transform your library's image from old school to the place to go!
This library webinar will show you how to incorporate e-books into your catalog. There's also tips on including other digital resources so you can offer your borrowers a seamless browsing experience!
For library staff in the Australia Pacific region:
Register here to join us on September 16 at 1.00 pm (Perth time) and discover how adding digital content will transform your library. Don't miss this one!
For library staff in the North America region:
Register here to join us for the October 21 webinar starting at 10:00 am (Pacific Time – US and Canada). We look forward to seeing you there.
2. Live OPAC Makeover
If your OPAC is more "meh than marvellous", then this is the library webinar for you. We will demonstrate how easily you can take your OPAC from drab to fab!
We'll show you some quick fixes, tips, and tricks to help you transform your OPAC into an engaging and inviting gateway to your library. You know what they say – first impressions count. Give your library users a fantastic online experience from their first click.
We invite library staff in the Australia and Pacific region to join us to discover how some quick tweaks can take your OPAC from ordinary to amazing!
For library staff in the Australia Pacific region:
Register here for our webinar on 30 September 2021 which will run live at 10:30 am AEST (08:30 am AWST and 01:30 pm NZDT). See you there!
For library staff in the North America region:
The date and time will be announced shortly, so keep your eye out or keep checking our Events page.
Do Join Us This September
We are looking forward to you joining us in September. Don't forget, if the dates are not convenient, or something unexpected comes up, registering means you won't miss out altogether. We will send you the video recording of the event or events you registered for. In the meantime, if you have any questions or would like to learn more about Liberty, just contact us. Like you, we are here to help.