Softlink IC Blog
Subscribe to our quarterly update
Top 5 Tips to Get Your Library Ready for the Holiday Season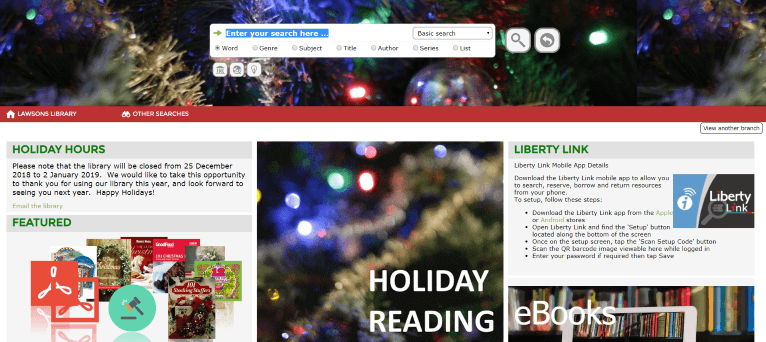 So you think you've ticked off all the Christmas season preparations? OK we believe you. But, just in case there's one or two things that may have slipped your mind – after all it only comes once a year (or seemingly more often for those of us less close to our actual day of birth), we thought we'd provide you with a little checklist.
With the end of the year (and the associated holiday season) almost upon us, now is a good time to prepare your library (and your borrowers) for the holiday period, and the following year.
Update the homepage to include a holiday message
Adding an information box (or editing an existing one) is one of the easiest ways to let your borrowers what days the library will be closed. You could use different colours (and even an image) to make this box stand out and set the festive mood!
Update your banner
Changing the banner image of your Liberty system can make a major difference to how your Liberty Home screen looks to your borrowers. If you want to set a different mood for your Home screen, consider changing the banner to something with a holiday theme. The Interface Setup Wizard can also be used to change the colour scheme.
Update the holiday opening hours
If you haven't already done so, you should mark out any closed dates for your library for the holiday season and add them to Liberty. Closed Dates are added for each of your branches (System > Branches) and you can enter single days, or a date range. This will ensure that any loans you issue to borrowers don't fall due when the library is closed!
If you know the public holidays on which your library is closed in 2019, this is also a perfect time to add these.
Send a bulk holiday greeting email to your borrowers
The Bulk Email function is the perfect way to send a greeting to your borrowers for the holiday season. You can customise your message to address each borrower by name.
Email a reminder list of loans to borrowers
The end of the year is a good opportunity to send an email to your borrowers listing their current loans. This notice is sent as part of the Overdues Notice run, but the content differs from a typical overdue notice. In particular, all current loans are listed, and the message is much less severe!
The above tasks can be easily carried out in Liberty. If your library is not using Liberty, you may find out more about Liberty on this page.
If you are already using Liberty, and would like assistance with completing any of the above tasks, please contact your Softlink Support office.