Softlink IC Blog
Subscribe to our regular updates
5 Liberty Features That'll Grab Your Attention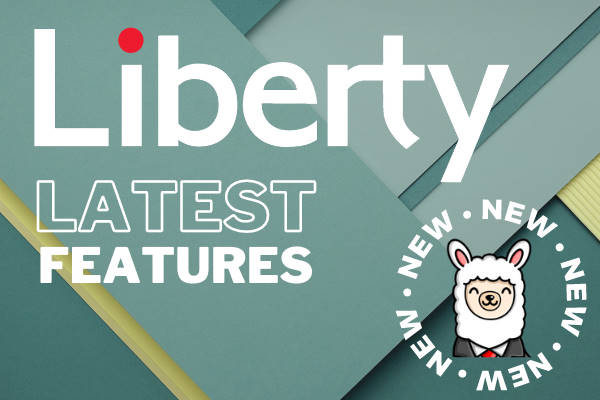 There's a lot to love in our latest Liberty v5 Build 8.053 release. As usual, there's something for everyone! We did a quick office poll with the Softlink IC staff about what features to highlight, and we've listed our top 5 Liberty features below.
These features and enhancements will make using Liberty an even better experience for our users. We'll be showcasing these latest changes and more in an upcoming webinar. Stay tuned for details!
Our Picks
You may find others features and enhancements may be your favorites, but here's ours:
Google Analytics. Via a new parameter, you'll be able to track site visits attached to your library catalog homepage. Once set up in your Google account, your Google Analytics Measurement ID will help you collect meaningful data on who's visiting your OPAC.
Customized MARC imports from resource suppliers. With our Acquisitions Module installed, users can automatically add orders when importing MARC records from your preferred or most used supplier.
Refresh of homepage options menu. A new and improved look and feel for administrators managing the OPAC homepage. Action buttons have been consolidated to improve your user experience.
Homepage Sub-Pages! A fantastic feature to create a customized hierarchical menu of sub-pages (or even sub-sub-pages!) grouping content by subject, topic, department, or theme. Give your library homepage a streamlined look and feel and give your users easy access to important information.
Acquisitions Module enhancements. Users of this module will see some great changes including the new 'budget dates field' which allows the allocation of resources costs across multiple budgets and enhancements for audit trails, with new fields to track users entering and changing order information.
We know you will enjoy using the latest Liberty v5 release.
Comprehensive Release Notes
There are, of course, many more features and enhancements in the latest release. Full details of changes can be found in the comprehensive release notes available via Liberty's Help interface.
Is Your Liberty v5 Hosted with Softlink IC?
As our hosted customers know, the upgrade to our latest release happens automatically! If you have any questions about the release or would like to know more about our hosting service, just contact our friendly Support Team. You can contact them by email or phone. Better yet, if you log into the Softlink Customer portal, you can always use our live chat option.
For those who would like to know more about Liberty, you can contact us here.