Softlink IC Blog
Subscribe to our regular updates
Are You Getting Real Value from Your Library Home Page?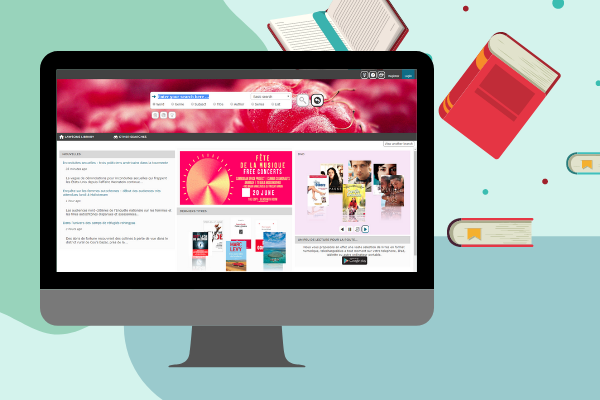 Published January 7, 2021
Are you taking the fullest advantage of your Liberty library management system (LMS) Home page? We know investing in library software to manage and promote your collection and services is significant, so getting real value is crucial!
Softlink IC believes there are 5 important questions you can ask yourself to determine whether you are leveraging the advantages your Home page provides to your users.
1. Can your users easily access your Library Home Page?
The library's Home page is where library marketing magic happens. It is a window to the library's resources, information, and services. Have you:
Buried the link to your Home page in a single intranet page or under layers of menus from your main web site to discourage discovery?
Linked your library system on other pages in your organization – often designed to serve some subgroup of users?
Embedded the link to your library system amid other content pages as a "need more information" link?
2. Are you making it worthwhile?
Making your library's Home page welcoming, informative, and easy to navigate is key. Have you considered the following issues when establishing your Liberty Home page, for example:
What will your users find when they get to your Home page?
Will they find the information they are seeking? It might not be a catalogue search.
Do you change the content enough to engage your users' attention and interest?
3. Are you making information easy to find?
Making it easy for users to not just easily access your Home page but ensure they can make the most of the information opportunities your library offers is crucial. How about:
Can your users get to what they need without instruction?
Do you use Single Sign-On so that your users' specific choices/content are ready for them without forcing them to log in?
Can you customize the language/text of the interface to match the terms your users are familiar with?
4. Is the library's Home page attractive and fun?
Engaging those who you want visiting your Home page means not only making it easy to use. Jazz it up! Can you customize the Home page with logos, corporate colors, carousels, slideshows as well as interesting and fun bits of information? Do you:
Brand your interface to match your organization's colors and logo?
Include movement with carousels and slideshows?
Ensure there is just enough white space to make the page "pop"?
Change the look and feel so it stays "modern"?
Add staff profiles and pictures to make visiting a personal experience?
5. Are you empowering your users?
Are you including self-help opportunities and 24/7 access anywhere, anytime? Do you:
Offer them a mobile app with easy setup?
Provide access to passwords unique to themselves or the organization?
Enable them to self-subscribe to distribution lists?
Ensure they can easily check what items they have on temporary and permanent loan?
Provide them with a self-circulating option, anywhere, anytime?
Make it simple to request items and information anywhere, anytime?
Ensure they can create their own interest profile, so they are informed when items of interest (print and electronic) are received?
Make the most of your library Home page. Make your Home page easy to access, easy to use and make it engaging. It is the way to build an even more enthusiastic and loyal group of users. With Liberty you have all the tools you need to give your library a high profile. Don't risk becoming just a decoration. Getting the most out of Liberty for your users means you and your library will become a decorative and essential service!
Need help with customizing your Liberty Home page? Need more ideas on how to increase your Library's profile? Just click here to contact us. We are here to help.