Softlink IC Blog
Subscribe to our regular updates
Curious How Liberty Has Evolved Since You Last Looked? You'll be Surprised
Like a fine wine, the Liberty Library Management System continues to age beautifully. Over the years, it has gained even more body and functional richness than it had the last time you considered it.
Softlink IC has ensured Liberty's shelf life never ends. True, your memory of a fine wine will linger.  But Liberty will go on aging beautifully with every passing year. It is an affordable, everyday luxury.
So Just What Body and Functional Richness Can You Expect?
After careful consideration of our long list of recently added, enhanced, cost-effective and time saving features, we have whittled it down to our favorites. Consider the following ways in which Liberty has evolved.  In no particular order:
Personalizing the OPAC Information Boxes
Staff can create personalized homepage boxes for different types of users. This could be used for:
Attorneys in different practice areas.
Medical personnel working in particular departments or teams.
Staff working on specific projects.
Users studying a specific subject or course.
Our Liberty customers love the facility to personalize the delivery of information and curated resources to their library users.
Reporting & Analytics
Liberty has evolved to introduce a variety of new reporting methods over the past few years.
Analytical reports let users design reports and graphs that focus on areas important to them.
Custom reports let you report on the information relevant to you.
Scheduled reports can be run at your preferred time and day and can be automatically emailed to anyone!
Our Reporting options are a time effective way staff can easily comply with their reporting requirements. More time to deliver those value-added services to your users!
Massive Knowledge Repository (MKR)
Our MKR plan provides a secure and cost-effective way for our hosted Liberty customers to store their electronic files and PDFs safely. By taking advantage of the available cloud technology, we can pass on savings to make storage cost effective.
Many of our hosted customers have significant amounts of data, from videos, to PDFs and everything in between. For them, MKR is a very popular plan indeed.
Interface Setup Wizard
The Interface Setup Wizard is a time saving boon! It provides our customers with a simple step-by-step process to:
Design the look and feel of their library's Homepage.
Add the organization's logo.
Apply the organization's corporate colours.
Establish the library's Homepage function & access rules.
Whenever logos, business rules or corporate colors change, it is very easy to edit! Library staff love this option.
Alternate Homepage
Library staff can choose to display the alternate Homepage view rather than the default setting.
The alternate view gives the Search box a more prominent place on the screen.  This lets you display a featured background image of your choice to give your library a modern search screen. It couldn't be easier or quicker.
The Mobile App Liberty Link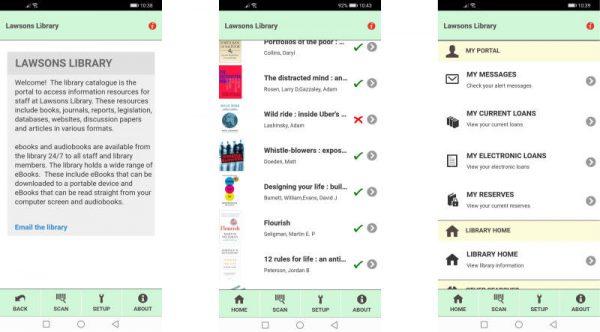 Liberty Link enables our customers' library users to access the library catalog and online services 24/7 anytime, anywhere.
Library users can:
Check what they have on loan.
Renew loans.
Place reservations.
Read electronic documents.
Email library staff.
Loan and return resources
Library staff can now use the mobile app to:
Loan and return resources
Stocktake.
Weed / delete resources
Scan text and images directly into the applicable catalogue records using the option extra AI Enhance.
Our Liberty customers are loving the AI Enhance free trial of 25 scans. Interest in this, our newest feature, is huge!
Custom Search Tabs
Ever had users needing to search just a section of your library? Library Staff can establish custom tabs relevant to their user base. This could be an image, document, judgments, equipment search.  Or a search for something else!
Displayed as tabs on the library's Homepage, users can simply click on the custom search tab to view just the records they want. This was an instant hit with everyone in our diverse community of libraries.
Impressed with how Liberty has evolved? Then contact us HERE. Alternately you can call us on our toll free numbers at the bottom of the Contact Us page to speak to a sales representative today. You won't regret it.