Softlink IC Blog
Subscribe to our regular updates
Emails vs a Research Management System? There's No Contest!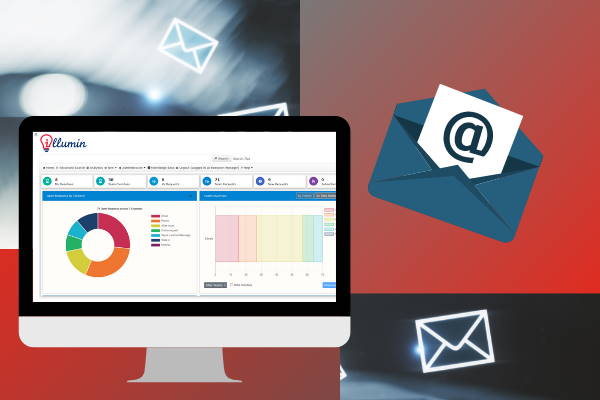 Published October 22, 2021
As libraries turn to a more digital presence, libraries and knowledge centers are receiving more email requests for their research services. Are you and your research staff still managing and tracking your research load via emails, and maybe a spreadsheet? Does it make managing your increasing research load even more inefficient now? There's got to be a better way!
Sounds like you really need to check out illumin, Softlink Information Centres' outstanding research management solution. While the advantages of illumin would need a novella, here's a few features to give you an idea of how much better managing your emailed research request load can be.
You Can't Customize Emails!
Admittedly, to some extent you can with spreadsheets, and a very handy tool they are. But they are not the most efficient tool when it comes to managing a heavy research request load.
Softlink's illumin request management solution is customizable, versatile, and easy to use. Some questions to consider:
Do you have different information requirements depending on the research required?
Does your organization have different naming conventions you want reflected in field names on request forms?
Do you have teams with different requirements responsible for different types of research processes?
While illumin includes a default request form, authorized staff can create customizable request forms tailored to specific research requests.
Custom fields can be added to your own request forms and labelled to conform to your organization's terminology. Fields available for selection include data entry, drop down selection list, and date selection. They can also be flagged as mandatory.
Once created they are ready for use. Custom forms with custom fields are a very cost-effective and time-efficient option for your researchers. They make it a simple and easy way to capture the user's information and requirements.
What Can You Automate?
Managing research requests using email and/or spreadsheets doesn't allow you to automate any processes.
With illumin, the option to manually create and assign emailed research requests is available. That process can be automated, as can notifications, when any edit or update to a request is carried out.
Imagine having a system that:
Automatically creates a research request from an incoming request email.
Have it automatically assigned to a researcher or a research team.
Automatically notifies the assigned researcher or research team of the newly assigned request.
Automatically notifies requesters and researchers of any updates to a request.
One Email at a Time or a Dashboard?
While you can archive each request email as the research required is completed, what of all the emails relevant to uncompleted or partially completed research.
Maybe you keep the email trail related to the research task, but you'd have to check the trail on each request.
That's time-consuming and clunky if you get more than a few research requests a week.
The illumin dashboard provides an at-a-glance display of metrics needed by research managers and staff. What is displayed on the researchers' dashboards will differ from information displayed on the research managers' dashboard.
On a researcher's dashboard they will see at-a-glance:
An overall view of the entire team's performance and KPIs.
Color coding highlights the requests that need their immediate attention.
Additional filters to help researchers find the requests they need to see straight away.
An Activity Feed that displays updates to requests within the last 30 days, and the option to select an Activity Feed type.
For research managers, the dashboard display enables them to view the required metrics for their team. They can use the option to display request traffic, recently opened requests and a view from which they can monitor teams' performance and productivity.
There's no need to scroll through mountains of emails to identify research requests or add emailed requests to spreadsheets.
What about the information your researcher worked hard to find? Where do you store that information? Is it accessible to others in your organization, ensuring it has even more value?
Searching Spreadsheets or a Knowledgebase of Information?
Do you build a repository of researched information for access to other members of your organization? If you manage research requests via email and spreadsheets, does it mean you have to:
Add the information links to a document that you constantly must update?
Place it on your organization's intranet or your library's homepage?
Then attach the researched information links to an email and send to the requester?
Repeat that process for every email request?
A research management system ensures you can easily flag applicable requests and the associated research information for automatic inclusion in a KB. The KB becomes an automatically expanding repository of valuable corporate knowledge; one your users and other members of the organization can access and easily search.
Systems like illumin also enables researchers to flag requests as internal if the information is subject to security or confidentiality requirements, and not accessible via the KB. However, the information is located within the system for future reference.
An automatically created knowledge base is a cost effective and efficient benefit providing an easy to search repository for everyone within the organization. It's a win/win.
What About Reporting?
It is certainly possible to create reports on research managed using email, but it is time consuming, and some request emails can be missed for inclusion. If you use spreadsheets, it is possible to create a graph of the requests, but the possibility that some requests have not be added is real.
illumin comes with an Analytical Reporting module. While there's a significant number of default reports for use, authorized staff can create, save, share, and reuse their own. Whenever reports are run, the data contained is 'live'.
At the click of a button, you can display the data in text, or select one of over ten available graph formats ranging from donuts to pies, to heat grids, and then export it in PDF, Word, or Excel as applicable. We all know the power of information reported in a colorful graph.
With illumin, knowledge staff can create or automate the creation of requests, add the researched information and run reports all in one place. The workflows are simple, and its flexibility makes any changes easy to implement.
Is your research workload increasing? Do you need a cost-effective and efficient way to manage the workload and make the most of all the researched information your team has amassed?
Why not take a closer look at illumin? You can book a demo or contact us to speak to one of our knowledgeable team members. If you are checking out the illumin page, you can use our very popular live chat option for prompt responses to any of your questions. Whatever option you use to contact us, we look forward to discussing illumin with you. We have no doubt it will be a perfect fit for your needs.