Softlink IC Blog
Subscribe to our regular updates
Last 6 of our 12 Days of Christmas 'Gifts' for Your Library Management System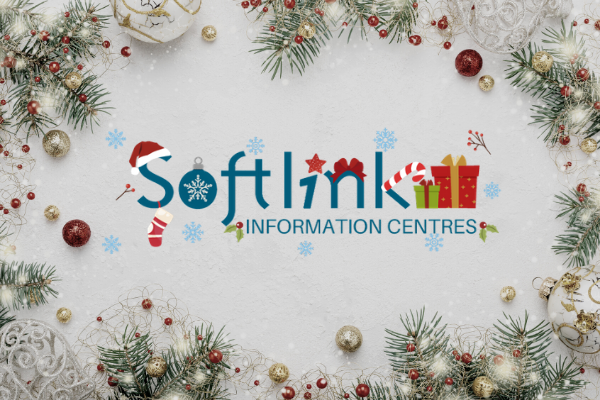 We know you've been on tenterhooks waiting for our final 6 gift suggestions for your Liberty library management system (LMS). As we said last week, a gift for your LMS is like giving a gift to you, your staff, and your users. Now that's what we call the best sort of gifts!
Again, there's something for everyone! Another great selection of gifts that keeps on giving! With 12 gifts ideas in all, picking one will make your decision difficult, but who says you only need to pick one?
So, let us tell you about the last 6 of our fabulous 12 days of Liberty gift ideas you will find under the Softlink IC Christmas tree. Together with last week's gift ideas, they will open you, your staff, your users, and your library to endless possibilities.
1. There's nothing ho, ho, hum about our SMS module
Father Christmas is no more a fan of people ignoring his emails than you are. He has lots of elves to help him with this problem but he's not about to share them with you.
Are you getting frustrated with your users who don't check the emails you send? We might not have any elves, but we do have our SMS module. Chances are your users have their phone with them, some may even have it permanently fused to their ears! Get your messages out using our text messaging feature. Once it's set up, off they'll go.
2. Who doesn't love a good book. Give it to them with eZRead
With the gift of eZRead, everyone from the library staff to your users will have a huge assortment of books to choose from. Imagine being able to read them all without the expense of having to buy them.
eZRead integrates with eBook providers such as Wheelers, Overdrive, and others. It means you can provide easy access to a wide variety of resources your readers and you will love.
You can all find the reading material you want via the Home page Search function, then simply click on the read button on the title Detail page, sit back in a favorite chair, and read it on a mobile device anywhere, any time. Bliss.
3. Jingle those money bells forever with Acquisitions
Your acquisitions load might not be as huge as the one Father Christmas manages, then again maybe it is! Either way, make managing your purchasing and budgeting tasks easier from 2021 and beyond! Get rid of those pesky spreadsheets by using Acquisitions to:
Tie every resource you buy to the applicable budget fund or cost center.
Run reports at any time that accurately reflect the current budget allocations – what's already spent on received items, what's allocated to non-received items, and the value of cancelled orders.
Make tracking orders easy.
Avoid doubling up on orders.
Make chasing late orders less stressful.
Your acquisitions staff will think this is the best LMS Christmas present you could give them. Well, for work anyway!
4. Wishing you a happy Web Services Christmas
Good choice! Web Services is a very underrated gift but so useful for many of you. This little hard worker hides their Christmas light under a bushel.
Do you have another system you need to integrate that collects personnel or student information you want in Liberty? Our Web Services full API gives you the flexibility to do just that. Ease the data entry load placed on your staff that comes with including user information in Liberty.
5. Those reindeer orbited the earth to drop off Orbit under our tree!
Do you have users who find searching using images much easier than using search terms? If so, then this is truly the gift that will keep on giving to you and your users. Orbit is:
A simplified, fun interface for young users or those for whom English is a second, third or fourth language.
Easy to customize with your own choice of colors and avatars.
Make your catalogue bright, appealing, and easy to use with Orbit.
6. Are you dreaming of a Syndetics Christmas?
We all love pretty pictures, whether it's Christmas or any other time of the year. So, stop dreaming and give everyone the gift of Syndetics. It's a present that keeps on giving to you and your users!
Syndetics fills your catalog automatically with wonderful title cover images, reviews, and more. No need to download the images and information to a folder then upload it to each applicable resource that you've had to search the catalog to retrieve.
Another great selection of 6 Christmas gifts for Liberty don't you agree?
We understand the lead up to Christmas is frantic. If you haven't managed to get the gifts you want before Christmas, fret not. We have enough stock to cover any orders you place in 2021. After all, better late than never right? Just contact us. We'll be happy to fill your gift orders before or after Christmas.
We'll leave you with a little Iclandic Christmas tradition we know you'll want to embrace. It's called Jolabokaflod ("Yule Book Flood"). December is when the majority of books in Iceland are sold because on Christmas Eve, it is traditional to give books to everyone so they can go to bed with one!
From all of us here at Softlink IC we wish you a wonderful holiday season, with lots of great gifts to share. We know 2021 will be a cracker for you, your staff, and users, due in no small measure, to the gifts you gave Liberty from under the Softlink IC Christmas tree.