Softlink IC Blog
Subscribe to our regular updates
OAI-PMH the Library Protocol Everyone is Talking About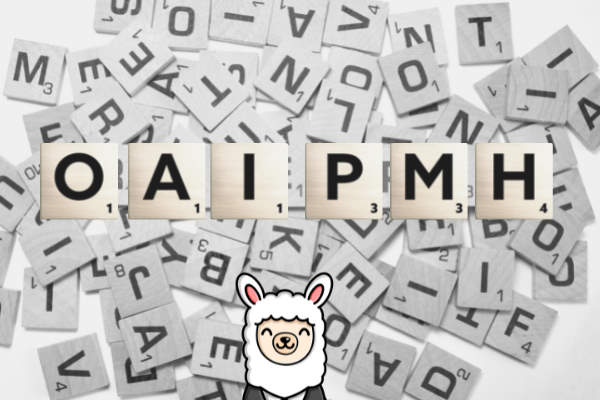 Published December 3, 2021
The game of Scrabble™ is nearly finished, you're left with HPQOAPMI and no triple word or triple letter options. That's why you have a love/hate relationship with it! How are you supposed to come from behind and beat your opponent with those letters? Softlink IC has the solution!
How about using OAI-PMH? Well, strictly speaking acronyms aren't allowed, but it is a real thing. It's the acronym for Open Archives Initiative Protocol for Metadata Harvesting. It's a standard that allows for the easy sharing of item metadata in your library catalog with other systems, and sourcing metadata held in other libraries' catalogs.
OAI-PMH makes use of well-known, portable, metadata formats including:
To provide better access to information, the protocol is used by many organizations including Library of Congress, Arxiv, and the National Library of Australia.
OAI-PMH has service providers and data providers. The differences between these providers are:
Service providers include – discovery layers, archives university libraries, or one that is a wider authority with an interface that allows searching multiple catalogs at once.
Data providers are organizations that make their catalogue metadata available for service providers to "harvest".
Liberty and OAI-PMH?
With OAI-PMH, Liberty, our integrated library management system, acts as a data provider, enabling the catalog of Liberty customers to be available to, and searchable through, third party service providers.
The functionality is included in your Liberty system without any additional cost.
Before OAI-PMH
Before OAI-PMH, data providers that wished to share their data would periodically perform a MARC export to a file and send it to a service provider via FTP. This meant that:
There wasn't always precise control over when an export was performed.
The MARC export may no longer be up to date by the time it was processed by the service provider.
In some cases, it was only possible to share the catalog with a single service provider.
With OAI-PMH, that is no longer the case.
The Advantages
The advantages of this metadata sharing protocol include:
Changes to the catalog are made available immediately.
Multiple service providers can harvest data at the time of their choosing.
Receiving the most up-to-date metadata is always guaranteed.
The standard is widely supported by third parties, and it is easy to set up! Service providers will simply require a single URL that can be used to harvest your catalog.
Need Help?
Want to get started with OAI-PMH? Get in touch with Softlink IC's friendly Support team and let us help you get started with sharing and harvesting valuable metadata.