Softlink IC Blog
Subscribe to our regular updates
Official Launch of Liberty in Vietnam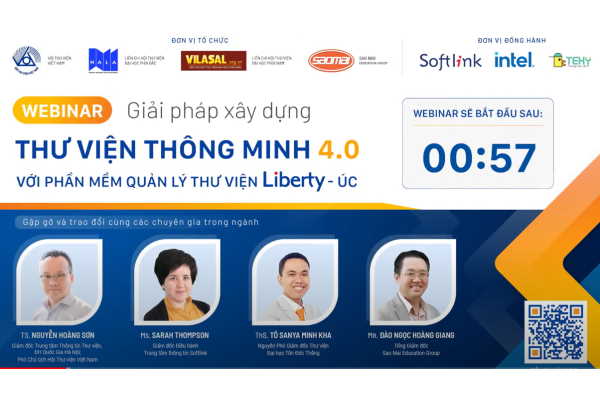 Published October 1, 2021
Softlink IC is pleased to announce that on the 15th of September 2021, in conjunction with the Sao Mai Education Group, Liberty, our integrated library management system, was launched to libraries across Vietnam.
We look forward to a long and prosperous relationship with Sao Mai and Vietnam libraries into the future. It promises to be a very exciting time for us all!
The Sao Mai Education Group
The Sao Mai Education Group has more than 20 years of experience in providing smart technology equipment and solutions to the Education industry. The Group's mission is to support and promote the application of smart technology in education & libraries in Vietnam.
Their General Smart Library Solutions (SmartLib) encompasses all the elements required by libraries from digitizing documents, technology, to security infrastructure and library management systems that meet the requirements of their customers.
With over 60 employees experienced in the library and education sector working in their offices in the cities of Ho Chi Minh, Hanoi, Da Nang, and Thai Nguyen, the group is an ideal partner with which to expand Liberty's reach in Vietnam. We look forward to a rewarding and enriching experience into the future.
The Launch
Over 400 librarians and library experts attended the webinar which was live streamed via Zoom, YouTube, and Facebook. The webinar was delivered in Vietnamese and English with our COO Sarah Thompson demonstrating many of the features in Liberty. The demonstration was positively received by the attendees who posted questions and comments during the webinar.
Smartlib Consultant Ms. Do Pham Hong Thy let us know that "the webinar was a great success. We received many compliments from library experts".
Ms Do also let us know that an article sharing thoughts about the seminar will be posted to the Vietnamese Library Association website shortly.
Softlink IC would like to thank the Sao Mai Education Group for organizing what was a successful and interactive webinar. We look forward to an exciting future for Liberty in Vietnam. Want to learn more about Liberty? Just contact us and we will be happy to help. Better yet why not get a quick demonstration by booking here.