Softlink IC Blog
Subscribe to our quarterly update
TED Talks for Libraries. Have you Viewed These 3? They're Worth it!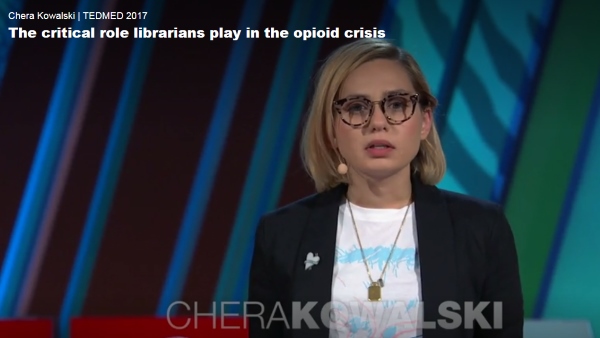 In an age where the future of libraries, and librarians, often feels uncertain, it's always useful to get a little inspiration. We at Softlink Information Centres have noticed that there's a surprising number of TED Talks out there that focus on libraries and their future. If you've missed any of these three, they are really worth viewing.
The Critical Role Librarians Play in the Opioid Crisis
America's opioid crisis has skyrocketed in recent years. Libraries are a point of refuge for those who have nowhere else to go. Because of this, some are now taking a hands-on approach to tackling the issue.
In this TED Talk, Chera Kowalski describes how she's trained to administer Naloxone in the event of an overdose. As a drug that reverses the effect of narcotics, it prevents opioid overdoses from becoming fatal. Kowalski's description of how often she needs to take action is enlightening and harrowing at the same time.
As a librarian, Chera Kowalski also has personal experience with opioid recovery. Both of her parents maintained their recovery from addiction. This makes the topic personal and passionate for her.
Thanks to her talk, it's clear how librarians can also act as vital first responders.
To view Chera's TED Talk, click here.
What to Expect From Libraries in the 21st century
As one of the more touching TED Talks you can watch on libraries, this one reveals how they promote creativity in a modern world. The presenter, Pam Sandlian Smith, opens with a discussion about a young boy who used the library as a place to explore his dreams while his father was in a refuge. She then moves on to discuss all the ways librarians can segue with modern technology to promote accessible creative environments.
As the director of Anythink Libraries in Colorado, Pam has been instrumental in securing extra funding for the public libraries system. Her transformational approach has earned many accolades, including the 2010 Colorado Librarian of the Year.
To view Pam's TED Talk, click here.
How to Manage Information Overload?
It's no secret that too much information is causing chaos. In this TED Talk, former police officer Jonathan Kemp discusses how to manage life in an age of information overload.
His techniques are designed to make you more efficient. This is a skill you can use in your working life and when assisting those who visit your library.
After a career with London's Metropolitan Police, Jonathan acquired an MSC in Trade and Finance. Using a combination of the two skills, he's progressed to change the way we absorb information forever.
To view Johnathan's TED Talk, click here.