Softlink IC Blog
Subscribe to our regular updates
The Future of Library Access and Digital Resources is Now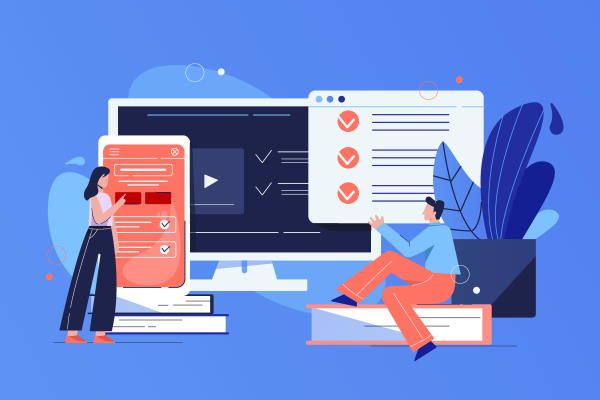 A significant increase in access to libraries online – their homepage, search options and digital resources was already evidenced prior to COVID-19's impact. This was borne out by the results of
Softlink IC's
#gotknowledge2020
survey.
Since COVID-19, working from home has proved successful for many organizations. It may well herald a change in how and where people work in the future. For libraries, an online presence, and a need for the provision of more digital resources is not the future. It is the now.
The #gotknowledge2020 Survey and Library User Access
It is important we keep our finger on the pulse of the library industry. Our #gotknowledge2020 survey is one of the important ways we continue to be informed. The survey sought to further understand the current challenges, as well as seeking what, in their opinion, librarians saw in the future.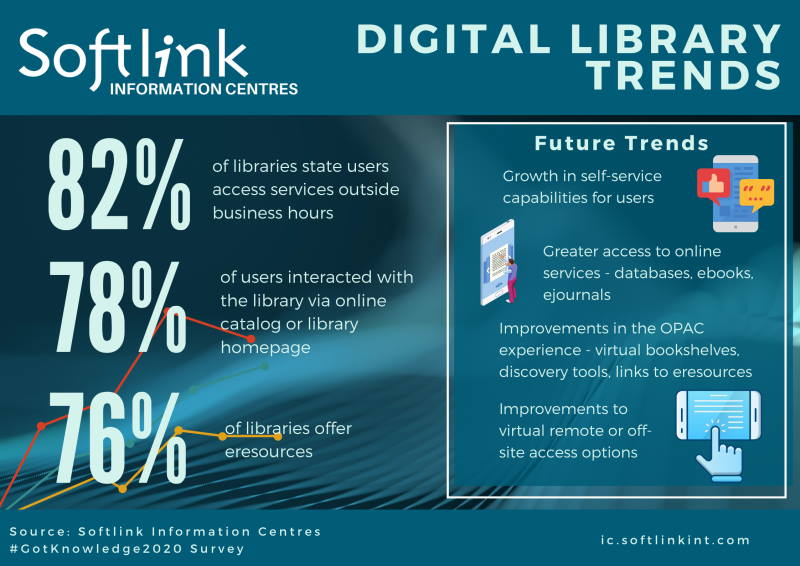 The response from librarians and knowledge workers from over 16 countries, working in a wide range of library types was heartening. We are grateful for their input. For anyone who has not yet viewed the report, you can find it on our Blog page.
Here we give you a brief overview of information outlined in the Access and Usage section on page 11 of the report. More in-depth breakdowns on access and usage are included in the Sector Snapshot section starting on page 14.
How Do Users Interact With the Library?
A vital metric for librarians is measuring how users interact with the library. It ensures they continue to place their resources and services where their existing users and potential users are now and likely to be into the future.
So, knowing how users connect and which modes are increasing in popularity is the first step. The survey asked how the library's users commonly accessed the library and staff. The responses identified the following 5:
Email – 94%
Walk in – 93%
Phone – 84%
Online catalogue – 78%
Library Home page – 66%
Walk-ins – for public libraries, this access is not surprising. It will continue to be the most common interaction due to the wide variety of services and community activities they provide to their users.
The high rate of walk-in access by further education library users was also not surprising, given their services from reference assistance to quiet and group study spaces. Interestingly, walk-in access by users of legal libraries also remains quite high at 86%.
Phone and Email – both these options remain very popular for users of all library types.
While the above modes of interaction were not surprising, the figures for external and out of hours access confirm it is a significant reach opportunity for all library types.
External and Out of Hours Access
The break down of users seeking information from libraries online and out-of-hours clearly illustrates an increasing trend. Libraries in all sectors have a distinct advantage when they provide on-line access and hold a significant number of digital resources.
82% of respondents indicated their users accessed their services outside of business hours. For academic libraries it reached 90% while for public libraries responses indicated it was 100%!
Users can access to the on-line catalog and digital resources outside of business hours via personal computers and mobile devices. It confirms how critical access to the library anytime, anywhere is becoming for library users. Moreover, it confirms that, for libraries, a focus on increasing budget allocation for resources in all types of digital formats is crucial.
Go on, Read It!
We encourage you to check out the Softlink IC's #gotknowledge survey report. It makes for interesting reading and gives us all food for thought. Does your library management system meet your library's growing need for an impressive online presence? Does it make it easy for staff to catalog digital resources and clearly identify those resources in online search results pages? If not, and you would like more information on our library management system Liberty, or our research management system illumin, don't hesitate to contact us.