Softlink IC Blog
Subscribe to our quarterly update
The Melbourne Liberty Conference – How Quickly Did That Come and Go!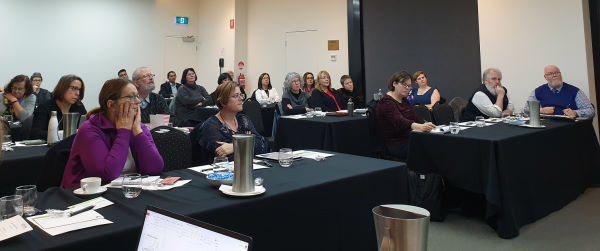 All that anticipation and all that enjoyment have come and gone for 2019. Is it us or is time just flying by? The Melbourne Liberty conference, an action-packed day of learning and interaction is over for another year.
Attended by over 45 staff from our Liberty libraries, the conference had everything. The morning session began with an introductory speech by General Manager John Crook. The attendees were then treated to a wonderful presentation from MCC Library's David Studham on how their library became a star on Library Planet. The session also included an overview of new features and future plans by Technical Manager Sarah Thompson.
Then it was time for the Homepage Showdown. The attendees were grouped into 5 teams:
Alpaca
Fur Seal
Penguin
Toucan
Tiger
Everyone was given a time-frame, and a Tips and Tricks cheat sheet to help them create a winning library Homepage.
The teams in the Melbourne showdown session divided the tasks according to skills as happened in Wellington. Sarah noted,
"What happened in showdown groups in Wellington happened in Melbourne. Team members quickly identify who had what skills within their group and divided the tasks accordingly".
Everyone enjoyed the showdown. Deepak Singh, Principle Law Librarian at Papua New Guinea's Office of the Attorney General, commented,
"The practical sessions on the creation of a Homepage made it clear where I had been going wrong when embedding videos and images on the homepage. It was also a chance to learn from our peers in the library field."
Deepak was also very interested to hear David Studham's story of the MCC Library and find out about the Library Planet site,
"I learnt of the existence of the Library Planet through our guest speaker David Studham's (MCC Library) talk. It was enlightening to hear about so many libraries and how they were using the online platform to connect to each other from all over the globe."
After lunch, despite the appeal of a short afternoon nap, a breakout session was held. The groups discussed how their libraries worked and came up with features they believed would make some tasks easier for them.
More "lightbulb" moments and ideas to and try out when they got back to their libraries came up as they did in Wellington.
A representative from each group gave a short presentation on their discussions and the resulting suggestions. As Sarah noted,
"The Melbourne attendees also gave us a lot of good ideas to work with. We'll be busy discussing, planning and working on implementing some of the suggestions that have come out of this year's conferences. And we've still got London to go!"
As always, one of the most appreciated benefits of the conference was the opportunity it gave to attendees to network with other Liberty users.
Louise Ryan, Information Services Office at Dairy Australia commented that,
"For someone in a one-person library, I welcome the chance to chat with other librarians."
Deepak felt the same noting it,
"Provided a networking and collaboration opportunity with libraries across Australia. This is important for a small law library such as ours, that operates with limited resources. It enables us to strengthen networking relationships and information sharing with other librarians from larger libraries."
After a full day, everyone headed down the road to the Platform 270 for the traditional post-conference wind-down. Everyone was happy the venue was the same as last year. The positive feedback on the venue, food, and service was lovely to hear. We all agreed it was a lovely way to wind down with a drink or two, fun conversations, and some delicious finger food.
John, Sarah, and Emily would like to thank all of you who attended. They look forward to seeing you all again next year.